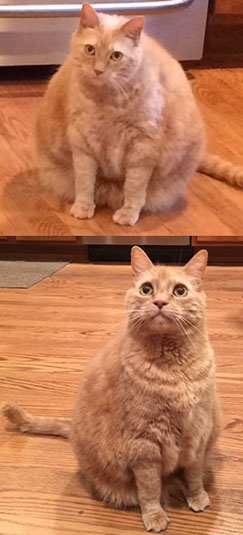 Here is a before picture of Simba taken in May of 2015 with him weighing in at 21 pounds. The after shot was from yesterday (January 4, 2017) with him weighing in at 16 pounds! Amazing, huh?? It's been a slow, but steady progress. Here's the long version of his battle with the bulge.
Simba gained his weight solely from free-feeding dry cat food. Since there were 2 other cats in the house, one being diabetic (Max), I needed to leave food out at all times. I first came across YA cat food in search of helping Max, but when he passed away we followed the Vet's suggestions and put Simba on a prescription dry food diet. After a few months of eating the prescription food he still didn't lose weight, our vet suggested putting him on a feeding schedule of dry and wet prescription food. This left everyone miserable! Simba was starving by the time of his feedings and would gobble up his food so fast that he ended up vomiting. I started searching for other options when I remembered Young Again Cat Food. I admit to being skeptical at first. The calorie count of this food seemed a bit high and Simba didn't seem that interested in the food when I had gotten it for Max. But the staff at YA was great, offering me suggestions and recommending the current food we feed him now, Mature Zero Carb. Since Simba had so much weight to lose and I was concerned with him getting hepatic lipidosis I did supplement the free feeding of YA with a small amount of zero carb wet canned food each day. I left 4 bowls of YA cat food in different rooms of the house and gave Simba a small serving of wet food 2 x's a day. I now had a happy cat who was also losing weight! My family also noticed a big change in his behavior. He became a frisky kitten again!
I have been slowly weaning Simba off of the wet food. He eats about 2 teaspoons of it a day now and sometimes doesn't even want that. He is pretty happy with free feeding of YA cat food! I plan to have him solely on YA by the end of the month to insure that he looses the remaining few pounds.
Your company has been a lifesaver not only to Simba, but also to our diabetic cat, Max. Unfortunately he didn't live long enough to reap the full benefits of YA cat food, but YA cat food did allow him to get off insulin in the last month of his life.
THANK YOU!!
Linda D.