​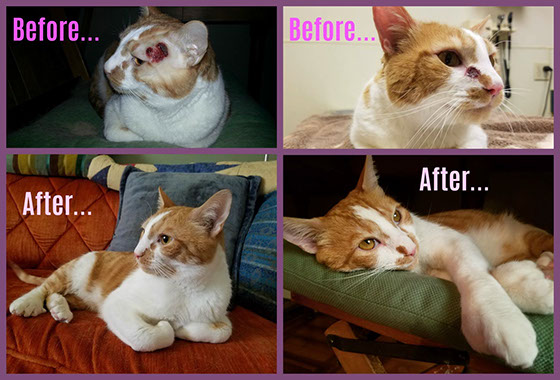 "My cat Jake used to get horrible eosinophilic plaques on a near-constant basis. He was on course after course of prednisolone, and started becoming resistant to it. After a trip to a veterinary dermatologist, we put him on Atopica, which definitely worked for a while to keep his symptoms in check. But the medicine is expensive, and for health reasons, it's not something I wanted to keep him on indefinitely, despite the derm vet saying it would be just fine to do so. Plus, Jake became increasingly difficult to medicate -- constantly hiding and evading my grasp, fearful of me because he hated that awful-tasting medicine.
This spring, I switched my cats to Young Again in the hopes that a change in diet might help Jake. He took to it well, and I slowly began increasing the time between his doses of Atopica. In May, I took him off it completely, and he's been lesion-free ever since. I mix the Mature Health formula with the LID and he's had no recurrences (knock on wood), so I am not even sure it's chicken he's allergic to. Of course, his recurrent lesions could have been caused by something else entirely -- something in the environment, stress, etc. But I am NOT taking any chances. I will keep my cats on Young Again as long as it keeps Jake happy, healthy, and symptom-free.
Some of my other cats have had urinary issues in the past too, and this food manages those issues as well. Check out the before and after pictures. I sincerely hope we've put those awful lesions behind us for good now! Thank you, Young Again!"

Rebecca K.
If you have a testimonial to share, please send us an email or Facebook message. We love to hear about your pets!
"I can imagine you hear this often, but had to share how Young Again Pet Food has improved the life of my pets. I have 2 cats and transitioned both to Zero Mature. One cat had on/off issues vomiting and neither cat was very active, almost like they didn't have any energy. Both cats are 11 old litter mates and all vomiting issues are gone. Both are more active. They dart about (zoomies) and do the hide-seek-pounce thing! I also have 3 dogs, litter mates, age 6. One dog has always been slow to eat and picks at food. When I use toppers, he readily eats. Also, he scratches at his shoulders and all 3 dogs have dull shedding coat. I decided 5 months ago to try your dog food. Now he eats his meals as quickly as the others, no more scratching, and his coat has a luster. Shedding has greatly reduced. GREATLY! His litter mates, although they eat well, scratch and have a dull shedding coat. I am going to "bite the bullet" so to speak and invest in feeding all 2 cats and 3 dogs Young Again. It's like I have done a side by side comparison trial that is proof of how beneficial your food is to my pets! The 2 dogs not on Young Again eat Merrick grain free Hero blend. Also all dogs get added good food of what's in season, in very small amounts. Squash, zucchini, sweet potatoes, apples, blue berries, bananas, kale, acorn squash, turnips, etc. 2 tablespoons topped on food or as a treat. Thank you for such a good dependable pet food!"
Darlene R. – Mississippi