FELINE DIABETIC REMISSION TESTIMONIALS
Courageous Cat, the love of my life, was diagnosed with diabetes in September. His numbers were all over the place and he would not regulate, needing 3 sometimes 4 units a day. On 1/16 I put him on Young Again Zero Carb. Today, January 31st, is day 8 that he does not need a shot! If I had all of you who developed this product in front of me, I would give you a huge hug! I'm overjoyed!
Nancy C.
​
"This is my cat Cola. She is 17 years old and diagnosed with diabetes since 2015. We had to give her insulin twice a day and switch to different kinds of can food but didn't get any better. Until 2017 we switch her to Young Again ZERO Mature. There is no Young Again pet food for sale in Hong Kong, so we FedEx the cat food from Singapore. Since then, her needed for insulin is getting less and less. From one time a day, to one time every other day, then one time every 3 days. After almost 3 years old diabetic battle, she is going into kind of remission now. She didn't need her insulin for almost one week now. Her BG range is around 5 to 8! This is amazing and I have to share."
Gabriel L.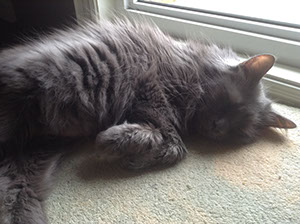 "We adopted our diabetic cat Babygurl from the shelter a year ago. Even with the transition to low carb wet food, she still needed a low dose of insulin 2x/day to maintain her blood glucose. Only 3 weeks on this food and her blood glucose was normal this morning!!!!! I can hardly believe it. Thank you so much! I will be sharing the information about your product with our vet at her next checkup! She already looks much nicer since she has been on your food. Her coat is thicker, shiny and more luxurious. This is an older pic I had."
Lorrie M.
​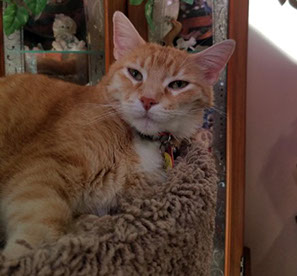 "This is my Romeo. He was diagnosed on Nov 2 with diabetes he's now in remission after losing 8#. He was a whopping 22 #. Thanks to Young Again, the Zero Mature food helped put him in remission. Thanks Young Again."
Cecilia H.
​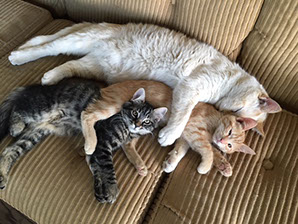 A big thank you Young Again. My 12 year old overweight cat was diagnosed with diabetes November, 2016. Administering 3 to 4 units of insulin twice a day. A little bit of help from the vet, but more information from the wonderful websites devoted to helping owners with diabetic cats was tremendously helpful. Switching from Frisky's to commercial canned food had a dramatic effect on my cat. It helped to lower insulin to 2 units twice a day. Then I read about Young Again cat food. Skeptical about switching back to dry food, I hesitated for a while. In the spring of 2017, I started using Young Again Zero. Although, I didn't follow the feeding instructions, my cat ate more then she should have, about 1 cup a day. It wasn't until a year later, March 2018, she finally started eating the correct amount of food, ¼ c. per day. This also required lowering her insulin levels from ½ to ¼ of a unit. I am happy to report she is now insulin free. It has been over 15 days that she has not received any insulin and her glucose levels are averaging about 130. I couldn't be happier. Young Again, thank you so very much. My cat is curious, her sense of smell has returned, she runs and gets into everything again. She is acting like she did when she was young. This is the first review/testimonial, for anything, I've ever written. Young Again, I can't thank you enough. You've made me and my cat very happy.
Donna S.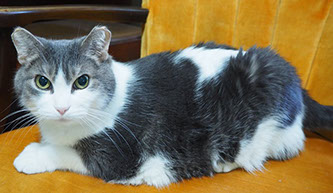 "Had to report good news to you: My cat, Sally, was diagnosed with diabetes in late-May 2018. The vet recommended that I put her on ONLY canned food. But, since she will eat very little canned food and loves dry food, I searched for dry food she could eat. Found nothing locally, so went online and found you folks. I ordered a bag of Young Again Zero Mature cat food and started her on it immediately upon arrival. (Which was about a day or two - you guys are so fast!!!!) By last November, she had fallen into the normal range on her fructosamine. The vet did recommend continuing insulin for a few more months. But yesterday, the vet did another fructosamine and declared she doesn't need insulin anymore - she is in remission! HALLELUJAH!!! So it only took 6-12 months of feeding YA Zero Mature to get her in remission! I will, of course, be continuing to use Zero Mature for the rest of her life! (And if/when I get another cat, I will be feeding them one of your formulas for younger cats. I won't ever use any other cat food than Young Again again!!!) So, sorry for the long note - But I am sooooooo excited and just wanted to share the good news with you! Please feel free to post this note on your website, if you wish. I'd like other pet owners to know how good your products are! (And you can bet that I've already recommended you to some of my pet owner friends - and will certainly continue to do so!) Hope you have a great weekend, and a terrific 4th of July!!! MANY, MANY THANKS for your help! You are truly a pet owner's best friend!!!"
Brian C.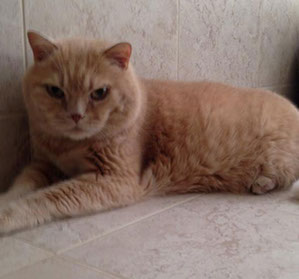 "Here is Chino (Cream British Shorthair) looking beautiful and healthy thanks to Young Again Mature ZERO food. He was diagnosed with diabetes last November and was immediately put on twice daily insulin shots. We were also told to stop all dry food and change to a lower carb wet food. This would be an expensive and not entirely complete treatment for his diabetes as his glucose numbers were only somewhat under control.
I happened to see Young Again Pet Food mentioned on one of the online cat groups I belong to and I went to the website to read all of the information. I learned so much about diabetic cats! Having known that a ketogenic (low/no carb, high protein) diet can help people with diabetes it made sense that this could work for cats too, especially given that they are carnivores.
We followed the directions for transitioning to the new food, and although it took a bit longer to make the switch he now eats this food readily. His glucose numbers are now within normal limits and we were able to discontinue the insulin very soon after he began eating his new food! He has regained the weight he lost (he was down to under 10 lbs. from his normal weight of 14 lbs.) and he is livelier and more like himself now. We are so thankful that we found Young Again and that Chino, who will be 12 years old in October is once again healthy and happy!"
Karen S.
​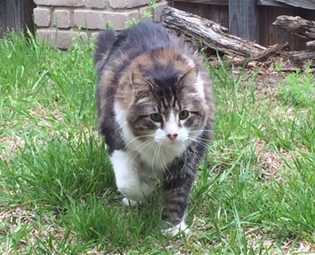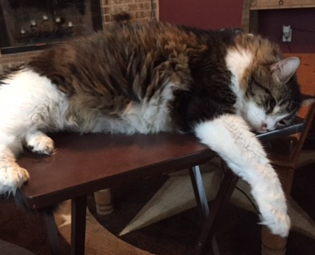 ORIGINAL MESSAGE FROM Christine L. - Dec 10th, 2014
"I want to Thank 'Young Again ZERO Cat Food' for saving me and my Maine Coon! My baby boy was peeing and drinking nonstop when I took him to my Vet and found out that he was diabetic (I kind of already knew since I'm a nurse but my cat is different from my patients right??? ). The Vet gave me some expensive cat food (dry and wet) and insulin (2 units) twice a day but his blood sugars remained greater than 250. I began researching and discovered 'Young Again'. It made complete sense since my outdoor cats survive on meat only and no carbs. Thankfully, I ordered No carb Young Again dry food and within a week, shockingly, my boy was normoglycemic (blood sugars in the low 100's). It's now been 9 weeks and my boy is still perfect and happy. He has begun to play again and has lost weight (20.5lbs down to 18.8lbs). All the research Young Again has done about feline diabetes makes sense but for some reason my Vet still tries to sell me food that doesn't make sense, can we possibly pass on this research to them so that other kitties do not become or remain diabetic???!!!!
I really cannot thank you enough."
UPDATE – July 31, 2017:
"My diabetic cat Lucky had been in remission since 2 weeks after I started him on Young Again ZERO cat food.
I check his blood sugar once a month, more often if I notice any changes in urination frequency or his weight. So far his blood sugar is regulated between 95-112. Because of Young Again's ZERO Cat Food, I have saved an incredible amount of money on insulin and diabetic supplies (and diabetic cat food from the vet that is very expensive and does very little to control blood sugar due to its high carb content). Not to mention the time and torture involved in getting Lucky to sit still to check his blood sugar."
Approximate monthly price breakdown:
• Needles/lancets/strips =$125/month
• Insulin (2 units x 2 a day)=$25/month
• Diabetic cat food from the vet=$40/month
• My time and the harassment to my 11 year old grumpy cat that I love so much = priceless!
Total= $190/month
Young Again pet food=$49/bag
• No dangerous blood sugar peaks and valleys that are harmful and shorten Lucky's life = priceless!
Total=$40/ month - awesome considering I'd pay waaaay more for my Lucky's health and happiness!
Thank you for all you do!!!"
Sincerely, Lucky & Christine L.
​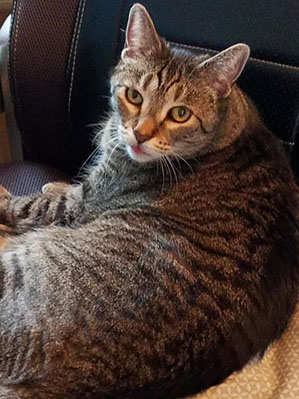 4 years ago today, Tigger was diagnosed with diabetes. On August 31, 2014 he was in remission because of your ZERO cat food. He's a handful, he's a lovey-dovey, my big guy, my best kitty. Every day I thank you for saving his life. So, here's some special Tiggy love for you today.
Liz G.
​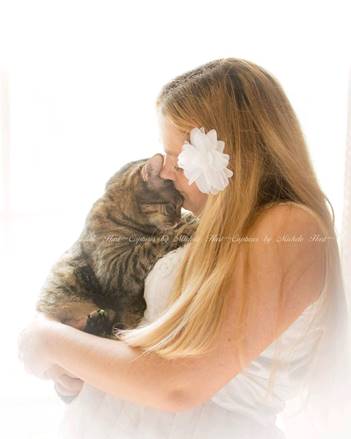 My cat Stormy is 12 years old now and thanks to Young Again he has been in remission from diabetes for about a year!!!! I could not be happier and your customer service is awesome. I had issues with my payment because of an address mix up when my card was issued and they helped me figure that out too. Stormy and I are very happy customers.
Lucy H.
"Your ZERO Mature cat food saved my male cat Max from having to endure a lifetime of insulin injections. I recommend your cat food to all of my veterinarians, and to all of my friends who have feline companions. Thank you for producing this food, and for being willing to share your extensive knowledge about pet nutrition with clients like me."
Todd P.
​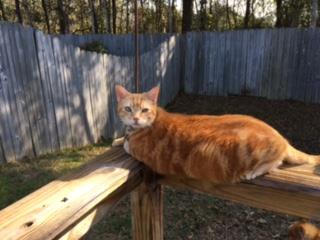 This is Noel- I brought him back from my mom's to live with me after he was diagnosed as diabetic around Christmas. He was on 3 units of insulin twice a day. I transferred him to my vet and just kept him on the "prescription" diabetic food because I didn't know any different. I had heard that cats could go into remission and it was my goal to do so. He was "stable" on his vet diet and insulin, but he was not losing weight and seemed to be starving all the time. I knew the vet foods still had a lot of carbs and I started to do some research for an alternative on the internet. I have to admit I was skeptical at first when I came across this food with the grand claims, but I thought it couldn't hurt to try. It was about the same price as the vet food and he's not a finicky eater- he has always eaten everything in sight- thus probably leading to the diabetes. I ordered an at-home glucose monitoring system at the same time. He had been taking his insulin shots so easily and after a few days of trial and error, he was accepting of me pricking his ear, too. I followed the feeding guidelines and fed only Young Again ZERO Mature and monitored his glucose twice daily. Every day his numbers were dropping and within ONE week he was completely off insulin! I took him to the vet to make sure my monitor was accurate and they kept him an entire day for a glucose curve. They were as amazed as I was that his numbers were normal and he did not need insulin at this point. I shared the information about Young Again food and and they made a copy of the information sheet that came with my order to possibly recommend to future clients. The vet said he had heard of this happening to cats that had not been on insulin very long, but had never witnessed it. I am so proud I came across your food. He now leaves lots of kibble behind in his bowl instead of scarfing it down- that has never happened in his 8 years. He is also using the bathroom regularly and seems to have more energy and is just loving life! Hopefully soon his weight will drop more and just keep getting better- thanks for everything-
Tia B. and Noel Biloxi, MS
​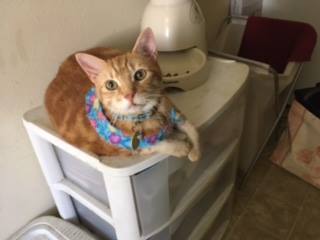 ​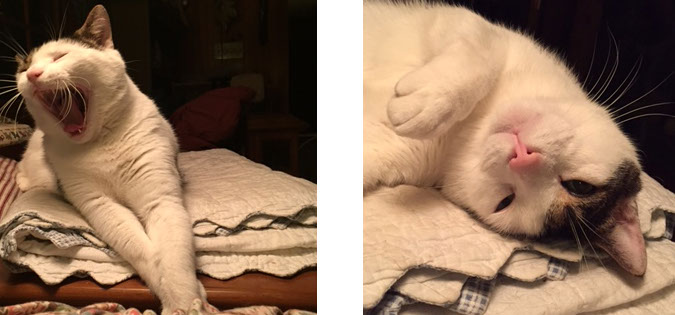 "I started my diabetic cat on your Young Again ZERO cat food back in Oct-November 2016. I waited until now to email you because I wanted to make sure it really does work. This food saved my cat's life.
My 20 lb. 13 year old cat was diagnosed as having diabetes. Most likely brought on by the use of steroids for his skin allergies and his weight. He was so sick. Walking flat footed, drifting from high sugar to low. The Vet put him on 3 units of insulin twice a day. He seemed to do ok on it but wasn't himself. I could tell he wasn't happy. I read the ingredients on the Hills food that the vet prescribed and wasn't impressed. I searched the internet for a low carb cat food and found Young Again. I was EXTREMELY skeptical. #1 I was told to free feed the cats. Well, the diabetic was also a gorger. He would eat until he popped. I said it was impossible to leave food out for them, not to mention the dogs would devour it. #2 the price. It's expensive. #3 The claims seemed too good to be true. As a last ditch effort I tried it. I really had nothing to lose. The cat was going downhill.
Miraculously, after being on this food for about a week, his levels dropped fast. I'm glad I tested him and followed the directions and worked with my vet. The vet said to drop the insulin down to two units twice per day. His levels were still low, so we dropped down to one. Guess what? Still low. The vet said discontinue the insulin. So….After just about a week on Young Again (give or take a few days) he was off the insulin. In 3 months, he was down to 18 lbs., which is a perfect weight for him. He can jump up on the bed again, he has energy and plays. His eyes are bright again. His skin hasn't totally cleared up but it is much better than it was. I can free feed the cats in places the dogs can't reach, the gorging has stopped and he is maintaining a healthy weight. I'm glad I took your advice and followed your instructions even though I thought it wouldn't work. I thank you and my cat thanks you."
Ellen S. and Cosmic Cat
PS: Only complaint I have is they did get loose stools during the transition and the smell was horrible. The looseness cleared up within a month. The smell has either subsided or we've gotten used to it.
​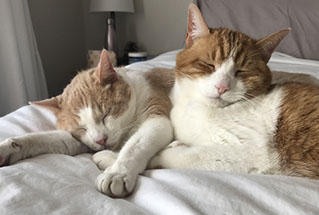 "I just had to write a little note to say a big thank you! My kitty, Davis, was diagnosed with diabetes 2 months ago with glucose levels at 475. We decided to try helping him through his diet before starting him on a lifelong regime of insulin. He has been on Young Again Mature Zero for about a month and his number have already come down by 40%! Our vet expects in another month or two, he will be in complete remission. WOW! I can't thank you enough for helping us avoid insulin!
It took him exactly 2 weeks to adjust to the food and stop overeating, which is exactly what your website said. It's amazing how accurate your feeding instructions are. I was skeptical at first and I really wanted to continue my timed/measured feeding schedule, but this free-feeding works like a charm. He has stopped overeating and I'm excited to watch him continue to feel better as time goes on.
His brother Miles has kidney disease and he is doing well on the food also. Having two cats with different medical issues was really stressful at first but I'm happy to have found a food they both like and are doing well on! I just had to say thank you!"
Becky Y.
​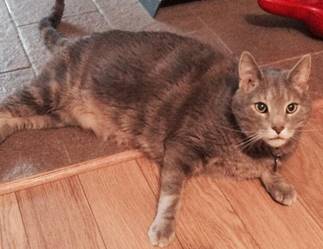 From Facebook: Awesome to hear another story similar to mine! My cat Milo was also diagnosed with diabetes and the vet recommended the RX brand food just as yours did. I did my own research on carbohydrate levels in the RX brand foods and found they were still over and above 10% carbs per serving. I saw the same posts in regards to Fancy Feast and we used that kind of food only as "treats" after testing his blood. Certain varieties did have low carbohydrate load but they by no means we're carb free. When I ran across Young Again Zero through a Google search I was a little taken back by the price but I can honestly tell you now, it made ALL the difference. My Milo has not been on insulin for 10 solid months. I will not use any other brand food for him because I'm a firm believer that diet makes a complete difference in the health of my cat. I told my vet about the food and she never heard of such a thing. I was floored! Because I did my own research and bought Young Again Zero we never had to buy a second order of insulin or syringes. Essentially, Young Again saved my cat. We've since switched to Young Again Zero Mature formula and he is doing great!
Krista J.
Very grateful for the Young Again Zero Mature Health formula. My 10 year old son's cat was diagnosed with diabetes in January. His glucose reading during the first week ranged from 390-435. We immediately started him on the Rx formula our vet prescribed and it shot up to nearly 500.
I did a lot of research on various Diabetic Feline groups, many recommended a few specific flavors of Fancy Feast pate. Despite it (and insulin) bringing his glucose numbers down it wasn't enough for a kitty used to having food all day and then someone mentioned Young Again. I ordered our first bag and to be honest, I was pretty skeptical. I am very grateful to say he has been off insulin since March, his Neuropathy has resolved itself, he has lost fat and not muscle and his glucose readings stay in the 70-85 range.
When Wesley was first diagnosed, because the Neuropathy was so severe, our vet recommended euthanasia in front of my (then 9 year old) son. You have given a little boy's companion many more years of health.
Shannon P.
​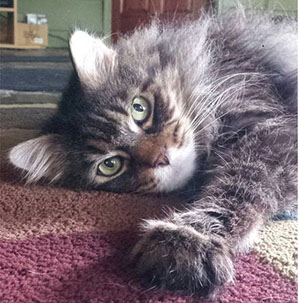 Fudge-In remission from diabetes on Young Again ....Your food is widely suggested across several diabetes groups.
Holly K.
​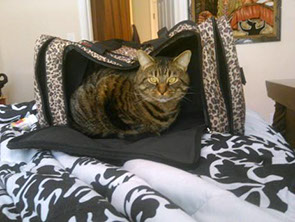 On July 6, our beloved cat Tiggy became very ill. After seeing the vet he was admitted. They called us a few hours later and gave us the news that Tiggy was diabetic. His numbers when he went in to critical care were well beyond 500 Blood Sugar. We were given Pro Zinc Insulin and the needles and sent home to begin injections two times a day 1 unit each time. Then we also had to take him back very frequently to have a blood sugar check. We began researching Feline Diabetes and my wife found a message board "Feline Diabetes Message Board." There she read and researched his diagnosis. There she found a forum member who mentioned Young Again Zero for Cats. Mind you my wife had already began a transition from the Meow Mix brand over to low carbohydrate wet foods such as Fancy Feast Classics, and Friskies Pates. His numbers at this time two weeks into injections were sitting at 240-260. Then we ordered the Young Again ZERO, as soon as the bag arrived it was like Tiggy knew the dry food was here, he had no issues tearing up his first bowl and on and on. As we began feeding him Young Again Zero, my wife immediately saw a change. His fur. The coat is as soft as a bunny rabbit, his energy level improved and he actually was very, very happy to have dry kitty kibble to eat as Tiggy is not a true fan of any wet food. My wife began to give less insulin as Tig was nearly eating only Young Again. The twice a day 1 unit of Pro Z was reduced to 1/2 unit twice a day, just on instinct alone. Three weeks after his diagnosis my wife made another appointment for a sugar check, this was interesting. That day Tiggy's blood sugar was 90. The vet said no shot. Well that was nearly two weeks ago and no shots required. Our beloved cat is back to better than normal. His numbers are stable and we couldn't be happier. I know for sure, without a doubt that Young Again ZERO, was the tipping point for my cat's remission. I have copied and delivered Young Again Zero's information and gave it to the veterinarian's office. The cost of Young Again is well worth it. Please do not ever stop making this wonderful cat food. After hours of research Young Again ZERO was the hero for our fur kid, we are real people who love our pet so much that we would have went to the end of the earth to resolve his diabetic diagnosis. Diet alone, I believe, using Young Again may very well have corrected and placed my cat into remission. Thank you Very Very Much.
The Burkheads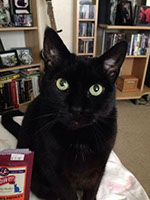 "My Mercedes was diagnosed about 9 months ago. Her numbers were running from 200 to high 300's. She was on 1 unit of Lantus twice a day. My vet didn't want to even discuss diet change or home testing! Needless to say we switched vets, got her on some low carb dry and wet food. She was never fond of the wet. Her numbers were still in the 200's. Every now and then she'd drop down to the high 100's. I emailed you guys for samples and received them right away. She loved the food so I ordered a bag. I received that food on the 14th. Her doses every day got lower and lower and I can officially say she has been off insulin since the 18th!!! She looks happy, her coat looks better and she is jumping on things she hasn't jumped on in quite a while. And her numbers have been running between 50-85. Thank you again!


Rebecca C.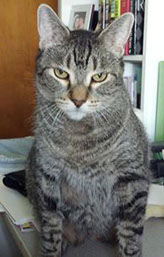 Tigger the Angry Diabetic Cat - Young Again ZERO lover since August! Tigger has just celebrated his one year anniversary being on Young Again ZERO food. What a huge difference this has made - no more insulin - he's healthier, he has more energy!!! You really did save Tigger's life. Thank you from the bottom of our hearts! Love you guys!
Liz H.
I want to Thank "Young Again" ZERO cat food for saving me and my Maine Coon! My baby boy was peeing and drinking nonstop when I took him to my Vet and found out that he was diabetic (I kind of already knew since I'm a nurse but my cat is different from my patients right??? ). The Vet gave me some expensive cat food (dry and wet) and insulin (2 units) twice a day but his blood sugars remained greater than 250. I began researching and discovered "Young Again". It made complete sense since my outdoor cats survive on meat only and no carbs. Thankfully I ordered No carb Young Again dry food and within a week shockingly my boy was normoglycemic (blood sugars in the low 100's). It's now been 9 weeks and my boy is still perfect and happy. He has begun to play again and has lost weight (20.5lbs down to 18.8lbs). All the research Young again has done about feline diabetes makes sense but for some reason my Vet still tries to sell me food that doesn't make sense, can we possibly pass on this research to them so that other kitties do not become or remain diabetic!!!! I really cannot thank you enough,
Christine L.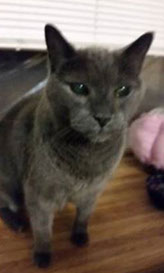 Thank you so much for your wonderful food. I only wish I knew about it sooner! I have two diabetic kitties and now one is completely off of insulin and the other is on a very, very low dose.
Shay B.
Our patient is a 12 year old male neutered tiger cat named "Chicco". He presented in October 2014 for weight loss. Routine cbc and chemistries were normal and a urine sample was not attainable at the time. The owner was advised to follow up with urinalysis at their convenience. The cat was not seen again until November 2015 with 5 ½ pounds of weight gain, and urinating large amounts. We again ran a cbc, chemistry, and were able to collect urine for a urinalysis via cystocentesis. His cbc was normal and his blood chemistries were all normal except for a mildly elevated blood glucose at 221 micrograms/deciliter. Chicco's urinalysis results demonstrated a specific gravity of 1.024, 2+ protein, pH 7.0, negative for ketones, and a 2+ glucose. Microscopically there were 3-5 WBC's per high power field and 2+cocci bacturia. At this time, we diagnosed diabetes mellitus with a secondary UTI.
Our treatment plan was simple. We needed to get our patient to lose weight in a manner that would also allow for better glycemic control and we needed to treat the UTI. The UTI was treated with an injection of Convenia at the request of the owner since giving the cat oral medications was quite difficult. The difficulty with our plan was that the best way to achieve the weight loss and glycemic control traditionally meant a high protein, low carbohydrate canned food diet and our patient, being a cat, refuses to eat any form of canned food. Enter our savior, one of our long-standing clients who happens to work at a local pet food company, "Pretty Bird". Our client had been in a while back super excited to talk about the new foods for cats and dogs that her company had developed. After getting some samples and reading about the product and some of the other testimonials, I started getting excited too! A dry cat food that was metabolically appropriate! This fits the bill for most owners because of convenience and for veterinarians because of the content.
We started our tiger cat, "Chicco", on the Young Again Zero Carb Formula. One month later, we were extremely pleased that our patient's drinking and urination patterns had returned to normal, he had lost a full pound, his urine glucose was negative, and his blood glucose was 124 micrograms/deciliter. With just a diet change we were able to resolve his current health issues. Thanks Young Again!!
Sincerely, Dr. Meaghan Swensen, Lakes Veterinary and Surgical Center, Lindstrom, MN
"I was introduced to Young Again cat food by people who were active in the feline diabetic community. My cat, Maury was diagnosed with diabetes, was overweight and had crystals in his urine and was a terribly finicky eater. I needed to get him off his high carb kibble and he wouldn't touch wet food. That is when I tried Young Again, Zero Mature. Maury's diabetes has been in remission and he has lost weight while on his Young Again diet. Michael Massie was so patient and helpful with the slew of emails and phone calls to guide me through this tough time. Thank you Michael and Young Again."
Sherry D.