Courageous Cat, the love of my life, was diagnosed with diabetes in September. His numbers were all over the place and he would not regulate, needing 3 sometimes 4 units a day. On 1/16 I put him on Young Again Zero Carb. Today, January 31st, is day 8 that he does not need a shot! If I had all of you who developed this product in front of me, I would give you a huge hug! I'm overjoyed!
Nancy C.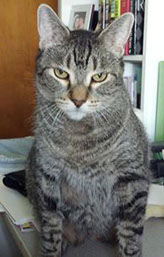 Tigger the Angry Diabetic Cat - Young Again ZERO lover since August! Tigger has just celebrated his one year anniversary being on Young Again ZERO food. What a huge difference this has made - no more insulin - he's healthier, he has more energy!!! You really did save Tigger's life. Thank you from the bottom of our hearts! Love you guys!
Liz H.
I want to Thank "Young Again" ZERO cat food for saving me and my Maine Coon! My baby boy was peeing and drinking nonstop when I took him to my Vet and found out that he was diabetic (I kind of already knew since I'm a nurse but my cat is different from my patients right??? ). The Vet gave me some expensive cat food (dry and wet) and insulin (2 units) twice a day but his blood sugars remained greater than 250. I began researching and discovered "Young Again". It made complete sense since my outdoor cats survive on meat only and no carbs. Thankfully I ordered No carb Young Again dry food and within a week shockingly my boy was normoglycemic (blood sugars in the low 100's). It's now been 9 weeks and my boy is still perfect and happy. He has begun to play again and has lost weight (20.5lbs down to 18.8lbs). All the research Young again has done about feline diabetes makes sense but for some reason my Vet still tries to sell me food that doesn't make sense, can we possibly pass on this research to them so that other kitties do not become or remain diabetic!!!! I really cannot thank you enough,
Christine L.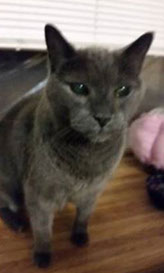 Thank you so much for your wonderful food. I only wish I knew about it sooner! I have two diabetic kitties and now one is completely off of insulin and the other is on a very, very low dose.
Shay B.
Our patient is a 12 year old male neutered tiger cat named "Chicco". He presented in October 2014 for weight loss. Routine cbc and chemistries were normal and a urine sample was not attainable at the time. The owner was advised to follow up with urinalysis at their convenience. The cat was not seen again until November 2015 with 5 ½ pounds of weight gain, and urinating large amounts. We again ran a cbc, chemistry, and were able to collect urine for a urinalysis via cystocentesis. His cbc was normal and his blood chemistries were all normal except for a mildly elevated blood glucose at 221 micrograms/deciliter. Chicco's urinalysis results demonstrated a specific gravity of 1.024, 2+ protein, pH 7.0, negative for ketones, and a 2+ glucose. Microscopically there were 3-5 WBC's per high power field and 2+cocci bacturia. At this time, we diagnosed diabetes mellitus with a secondary UTI.
Our treatment plan was simple. We needed to get our patient to lose weight in a manner that would also allow for better glycemic control and we needed to treat the UTI. The UTI was treated with an injection of Convenia at the request of the owner since giving the cat oral medications was quite difficult. The difficulty with our plan was that the best way to achieve the weight loss and glycemic control traditionally meant a high protein, low carbohydrate canned food diet and our patient, being a cat, refuses to eat any form of canned food. Enter our savior, one of our long-standing clients who happens to work at a local pet food company, "Pretty Bird". Our client had been in a while back super excited to talk about the new foods for cats and dogs that her company had developed. After getting some samples and reading about the product and some of the other testimonials, I started getting excited too! A dry cat food that was metabolically appropriate! This fits the bill for most owners because of convenience and for veterinarians because of the content.
We started our tiger cat, "Chicco", on the Young Again Zero Carb Formula. One month later, we were extremely pleased that our patient's drinking and urination patterns had returned to normal, he had lost a full pound, his urine glucose was negative, and his blood glucose was 124 micrograms/deciliter. With just a diet change we were able to resolve his current health issues. Thanks Young Again!!
Sincerely, Dr. Meaghan Swensen, Lakes Veterinary and Surgical Center, Lindstrom, MN
"I was introduced to Young Again cat food by people who were active in the feline diabetic community. My cat, Maury was diagnosed with diabetes, was overweight and had crystals in his urine and was a terribly finicky eater. I needed to get him off his high carb kibble and he wouldn't touch wet food. That is when I tried Young Again, Zero Mature. Maury's diabetes has been in remission and he has lost weight while on his Young Again diet. Michael Massie was so patient and helpful with the slew of emails and phone calls to guide me through this tough time. Thank you Michael and Young Again."
Sherry D.